NSW Public Health Alert – COVID-19 case in Sydney's eastern suburbs
NSW Health has been notified this morning of a new COVID-19 case in a person who resides in Sydney's eastern suburbs.
Urgent investigations into the source of the infection and contact tracing are underway.
It is understood the case, a man in his 50s, has not travelled overseas in recent times and he does not work in a hotel quarantine, border or health role.
The man underwent testing yesterday (Tuesday 4 May) and returned a positive result today (Wednesday 5 May). This case will be included in tomorrow's numbers.
Genome sequencing is underway, with results expected in the next 24 hours.
Close contacts are being urgently contacted, tested and isolating. The man visited a number of venues while potentially infectious.
Anyone who attended one of the following venues at the times specified is asked to immediately get tested and isolate until NSW Health provides further information.
This advice applies to everyone, including those people who may have been partially or fully vaccinated.
| | | | |
| --- | --- | --- | --- |
| Bondi Junction | Screening of The Courier at Event Cinemas | Westfield Bondi Junction 500 Oxford Street | Friday 30 April 6pm – 8pm |
| Rushcutters Bay | Figo Restaurant | 3/56-60A Bayswater Road | Friday 30 April 8.45pm – 11pm |
| Silverwater | Joe's Barbeques & Heating | 142 Silverwater Road | Saturday 1 May 1pm –1.45pm |
| Silverwater | Tucker Barbecues | 138 Silverwater Road | Saturday 1 May 1pm – 1.45pm |
| Annandale | Barbeques Galore | G1/212-220 Parramatta Road | Saturday 1 May 2pm – 3pm |
| Casula | Barbeques Galore | The Crossroads, Unit 12B, Parkers Farm Place | Saturday 1 May 4pm – 5pm |
| Mascot | BP Mascot | 1077 Botany Road | Saturday 1 May 4.30pm – 5pm |
| Bondi Junction | The Meat Store | 262 Oxford Street | Sunday 2 May 3pm – 4pm |
*** NEW LOCATIONS ADDED – 4.30PM ***

*** NEW LOCATIONS ADDED – 9PM ***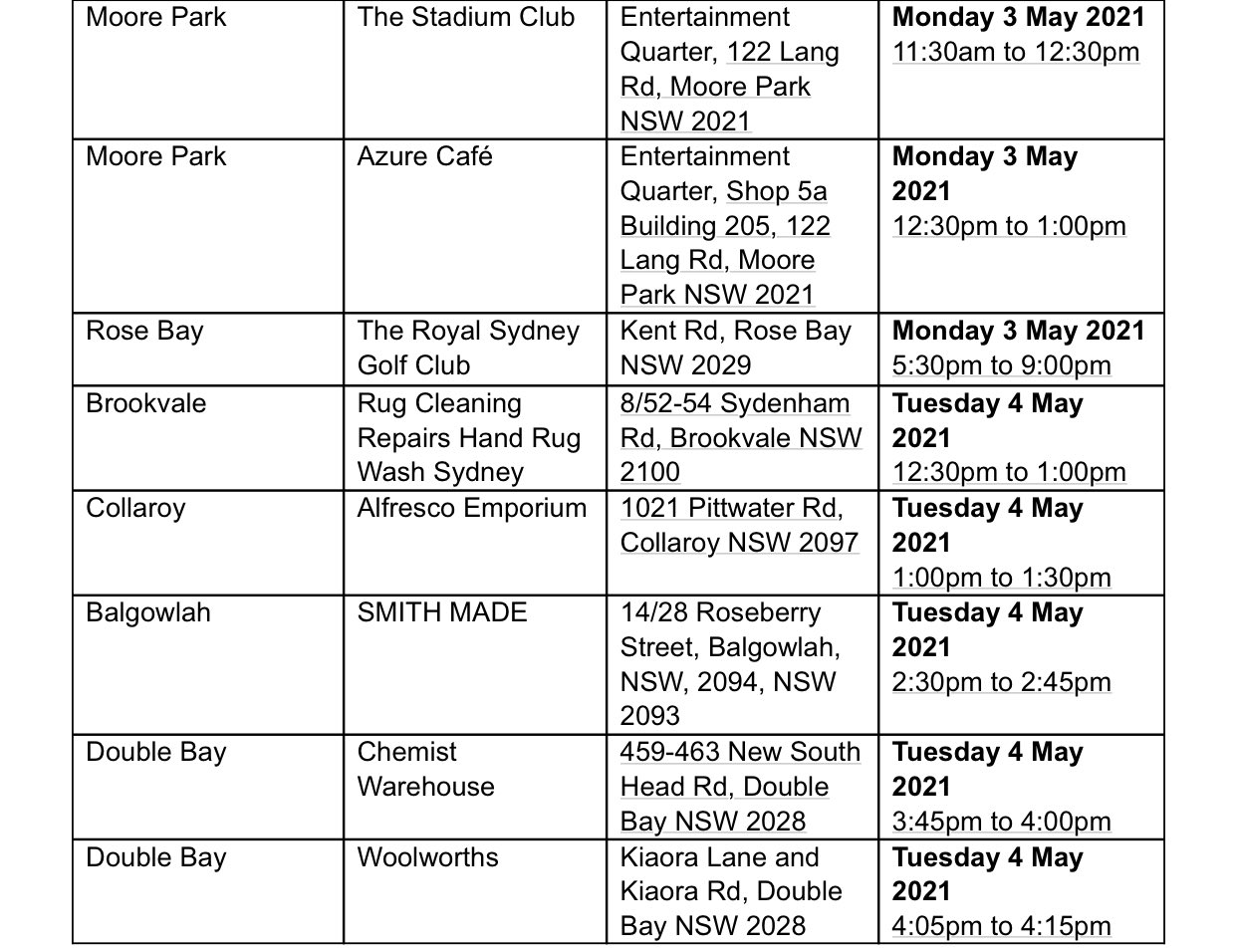 This list of venues of concern will be updated regularly as investigations continue. People are urged to check the NSW Health website regularly: https://www.nsw.gov.au/covid-19/latest-news-and-updates
EXTENDED TESTING HOURS IN SYDNEY'S WEST
WSLHD has 31 COVID clinics open today and there are 20 COVID clinics within the 8kms of the Silverwater – a suburb with two exposure locations.
We have extended opening hours of the clinics at the following locations until 8pm tonight, 5 May 2021:
Auburn Community Health Centre Drive-through
Parramatta Clinical Labs Pathology Drive-through Clinic, University of Western Sydney
Both clinics are free and do not require a GP referral.
There are more than 300 COVID-19 testing locations across NSW, many of which are open seven days a week. To find your nearest clinic visit here or contact your GP.